hotels and apartments
sport and leisure
localities
information

Your search
Val Sarentino / Sarntal: Hotels, B&B, Residence and holiday apartments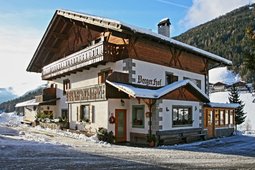 The Residence Bergerhof is located halfway between Sarentino, the capital of Valle Sarentina, and the idyllic lake Valdurna, immersed in a landscape of wonderful meadows and forests. In summer you can enjoy trips and excursions along the many trails in the area.
deals
20/01 - 20/01/2023

150€ for 3 nights
Characteristics
Warm. Small. Special! Welcome to the Alpine Hotel Penserhof in the Sarntal, in the heart of South Tyrol.
deals
28/01 - 30/01/2022

170€ for 2 nights

29/01 - 12/02/2022

255€ for 3 nights

26/02 - 20/03/2022

from 240€ for 3 nights

20/02 - 26/03/2022

234€ for 3 nights
Characteristics
Here, emotions run high as the altitude increases. The stage set by meadows, woods and breath-taking peaks is a gorgeous natural spectacle. And then, at the top, The Panoramic Lodge, your hotel in Reinswald in Val Sarentino, the heart of the mountain.
deals
23/01 - 18/02/2022

from 822€ per week

18/02 - 06/03/2022

from 890€ per week

08/04 - 19/04/2022

from 685€ for 5 nights
Characteristics
If you are looking for a holiday in a family like ambiance and far from the stresses of everyday life, then you are in the right place on the farm Thomasegg in the Valley Sarentino!
Flöckinger, surrounded by woods and meadows, is located 20 km north of Bozen, on the border with Campolasta, which is part of Sarentino. Relax in one of the apartments, which are south-facing and cozily furnished. One of these apartments is also barrier-free.
More than 600 years of history are to be discovered inside this farmhouse; you can see them in the romanic elements of the walls in the south-eastern corner of the building. The holiday farm is now managed by the 4th generation of the Kienzl family.